Popular Online Casino Games and Slots

New Microgaming Slot - Sterling Silver 3D Slot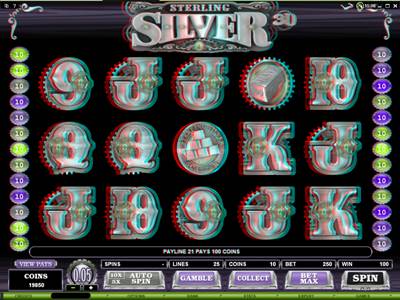 The Sterling Silver 3D slots represent Microgaming's first foray into anaglyph 3D territory. The game was released in June 2011, and it is basically a 3D version of the Sterling Silver slots. It features 25 pay-lines and 5 reels, with a free spins round, during which double payouts can be scored, and a handful of wilds. The game would be nothing more than a plain old Sterling Silver game if it weren't for the anaglyph-enhanced graphics. In order to enjoy the game, players will of course need red/blue 3D glasses. Without these glasses, the symbols on the screen will be barely discernable so it's safe to say they're a must. A word of caution regarding these glasses though: used over a longer period of time, they can be extremely hard on the eyes.
The game features various coin-sizes for all its 25 pay-lines. Players can bet from 0.01-0.25 credits on each of these pay-lines. Pay-lines are counted from the left to the right, which means symbols need to be lined up that way on the active pay lines.
The Sterling Silver 3D gamble feature allows players to double or to quadruple their winnings after every round which results in a coin payout. Players can opt to choose between the colors red and blue to double their previous winnings. If they choose the gamble round featuring the spade, club, diamond and heart symbols, they can quadruple their winnings. The Wild symbol is the Sterling Silver symbol. It acts as a substitute for every other symbol, except for the scatter symbols. When the wild symbol lands in a winning combination, a multiplier from 2x to 10x is activated on the winnings.
The Scatter symbol is the 5-silver-bars one. The scatter symbols are responsible for triggering the free spins round. It takes 3 or more such scatter symbols to trigger the 3D free spins.
Play Sterling Silver 3D Slot at the Following Microgaming Casinos:
Zodiac Casino | Prime Casino | Platinum Play