Derby Day Horse Racing Game Review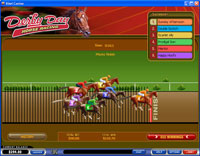 This is an amazing virtual horse racing arcade game, with fixed odds and easy to play. The graphics are sharp with sound effects mimicking horseracing derbies.
Players can also see the track conditions such as the hardness/softness and weather conditions.
Join the excitement of the Countdown and Photo Finish, and live race status throughout the game.
Every race has 6 horses which change from race to race out of a selection of about 20 horses.
Next to each horses name players can see the amount of points that horse has won in this virtual season, click on the horse's name to see all the information that can help
when placing a bet.
This information is the same that can be found on a form card at racetracks anywhere in the world.
There are various types of bets that players can place, such as:
Winner:
Check the odds, pick a winner, choose the stake and hit confirm.
The minimum bet is 10 cents; the maximum is $100
Derby Day Exacta Bet:
The same process as above, but here you choose both the 1st and 2nd places.
Place:
Bet on any horse, or a combination of horses to be placed 1st or 2nd.
Show Bets:
This is similar to horse racing place bets except here you can bet on any horse finishing in 1st, 2nd or 3rd place.
Pick 4 or 5:
Bet on 4 or 5 horses to finish in the place that you determine.
General
Bet with your instinct, note which horse you've bet to keep track, and watch the race begin!
Play Derby Day at:
Read our Review on Ho Ho Ho Bonus Feature Slot