Poker : Les Fenton wins GUKPT Goliath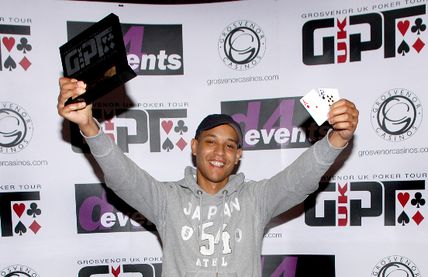 In 2011, the Grosvenor United Kingdom and Ireland (GUKPT) poker tour was feeling the heat, in its reign as the premier poker tour of the British Isles.
The temperature was coming from the PokerStars sponsored United Kingdom & Ireland Poker Tour (UKIPT), which had arrived with huge fields and bigger prize pools to really raise the bar when it came to organizing a premier poker tournament on the shores of Old Blighty.
The GUKPT had to respond, and respond they did. They slapped a £100,000 guaranteed prize pool on a tournament called The Goliath, and told the British press that they were going to set the European attendance record for a poker tournament.
The £100+ £20 buy-in attracted 1,765 players and the action kept pace with the promise, as a new record was set. The winner of that event was Lee Rawson, who turned his £120 entry fee into a nice gift of £32,705.
This year, The Goliath was back, and it was bigger than ever. The Ricoh Arena – home of Coventry City Football Club – supplied enough tables and chairs for 1,954 players, smashing last seasons record by nearly 200 souls.
With only three-starting days, you need a structure that is brutal, and the GUKPT supplied it.
Only 343 players survived the axe to make it through to day two. Les Fenton eventually won the event, a 30-year old architect from St Albans, who can now boast a figure of £35,480 as his biggest poker payment to date.